Sponsorship
Aligning with the PMI Manitoba Chapter is an excellent opportunity for organizations, who want to demonstrate their commitment to the project management profession, connect with project managers, and the project management community in Manitoba.
Please consider the advantages and benefits your organization and our community will obtain by becoming a Chapter Partner and/or Event Sponsor:
Direct exposure to over 2,000 project managers.
Increase visibility as a leader and supporter of PMI within your organization and to the business community.
Raise your company's alignment with project management by sponsoring an organization dedicated to supporting the profession.
Elevate your profile as a leader and employer within the project management community, by attracting and retaining project managers.
Market your educational programs, curriculum and classes.
Assurance that your employees will continue to have access to events and programs in the practice of project management by PMI Manitoba.
Support your organization's employees who are members of PMI Manitoba.
Enable recruitment and retention opportunities.
Demonstrate your organization's commitment and support to the project management profession in Manitoba by becoming a Chapter Sponsor.
If you have any questions on how PMI Manitoba can assist your organization, please contact marketing@pmimanitoba.org.
 Click Here to Download the Corporate Sponsoship Package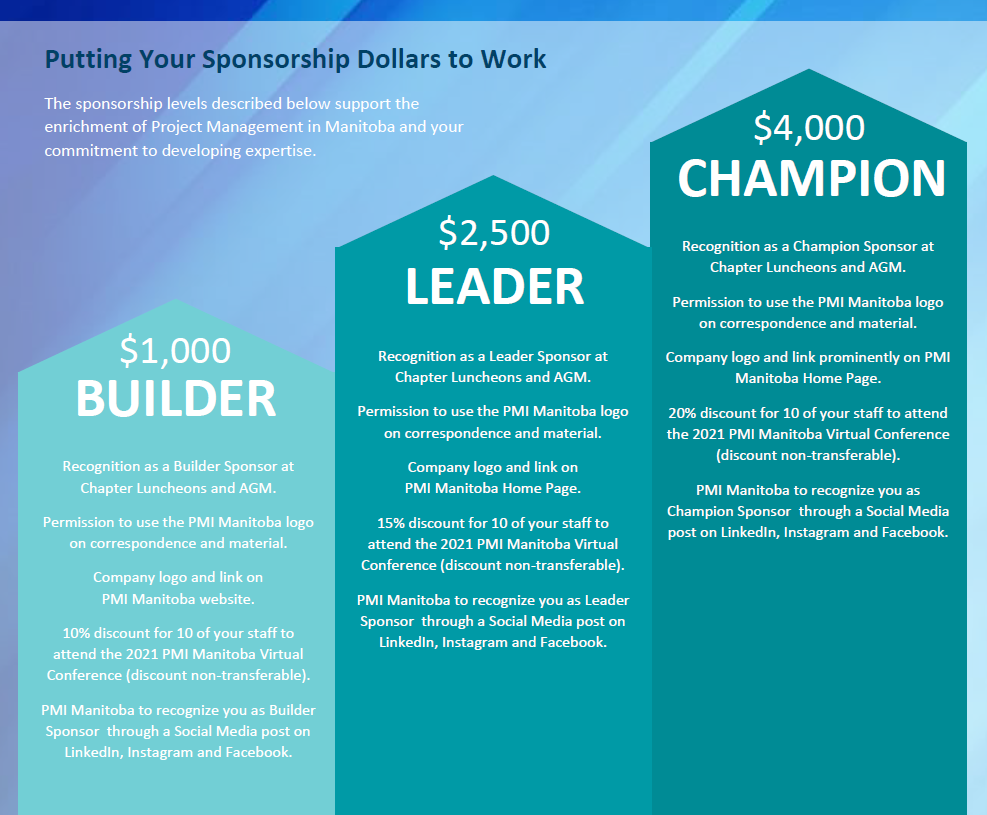 ADDITIONAL OPPORTUNITIES
Sponsor a Chapter Luncheon $300 – Two (2) complimentary luncheon tickets and recognition as Luncheon Sponsor
Sponsor an out of town speaker $600 – Recognition as speaker sponsor and introduction of the speaker
Sponsor a Networking Event $200
Sponsor the Monthly Newsletter (electronic) for a year $500
Sponsor the Annual General Meeting Luncheon $500
Sponsor and staff the registration table at a PMI Event $250
Corporate Pack for Chapter Meetings $30 per person with a minimum order of 40
Job Posting on PMI website, social media and monthly newsletter $150
For more information, please contact: marketing@pmimanitoba.org